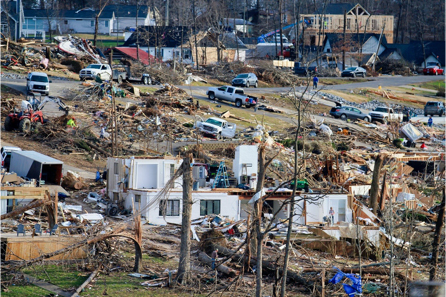 Depending on the magnitude of an earthquake, it can cause significant structural damage to your property. Any earthquake ranging from a magnitude of 4 to 5.9 can cause damage to your home depending on your proximity to the epicenter, the quality of the construction of the house, and the quality of the soil.
While earthquakes last barely 30 seconds, they can cause immense damage to your property and valuables. A severe earthquake of up to 7 or 8 in magnitude can last up to 5 minutes and can be disastrous. It can cause your entire house to collapse, destroying everything that comes under it.
It would be impossible to recover the losses incurred from such a severe disaster without earthquake insurance. Unfortunately, your standard homeowners' insurance policy does not cover earthquake insurance, and you have to buy it additionally. This is worth thousands of dollars each year and doesn't come cheap.
What Is Earthquake Insurance?
Earthquake insurance can be purchased as an endorsement to your standard homeowner's insurance policy or bought individually from the State's Earthquake Authority.
There are three earthquake insurance coverage options, these include:
Dwelling
These cover the rebuilding of the exterior and interior of the house, depending on the construction material used. This doesn't include brick and stone homes because the risk of damage to them is higher.
Personal property
This covers the cost of damaged valuables such as jewelry, art and collectables.
Additional Living Expenses
This covers the cost of living such as accommodation, dining and transport if currently your property is damaged and unlivable.
Do You Need Earthquake Insurance?
Here are some factors to consider before choosing to opt for earthquake insurance:
How close your home is to fault lines and seismic plates
What is the frequency of earthquakes in your region?
When did the last earthquake occur, and what was its magnitude?
The quality and strength of the material that has been used to build your house. Stone and brick have a higher probability of being damaged
The resistance level of your home to earthquakes
Is your house built on a slope? And what is the soil condition?
What is the cost of earthquake insurance in your state and the deductible amount?
How Much Does Earthquake Insurance Cost?
Your dwelling insurance coverage depends on the amount of money it would take to rebuild your home if it was damaged. This amount is calculated according to the current rates of construction and labor. So the larger the house, the higher will be the insurance coverage amount.
Final Note
It is important to weigh the pros and cons of whether it would be worth buying earthquake insurance. While insurance costs for your house and property against earthquakes are sky high, it takes one episode of a massive earthquake to uproot everything you own and swallow it up completely.
It is important to make an informed decision by researching and seeing how risky your location is and the chances of an earthquake occurring. You may also contact and speak to professionals such as those that work at EJD Law Group and you can consider what options they have to offer